---
An album for each year - 2022 version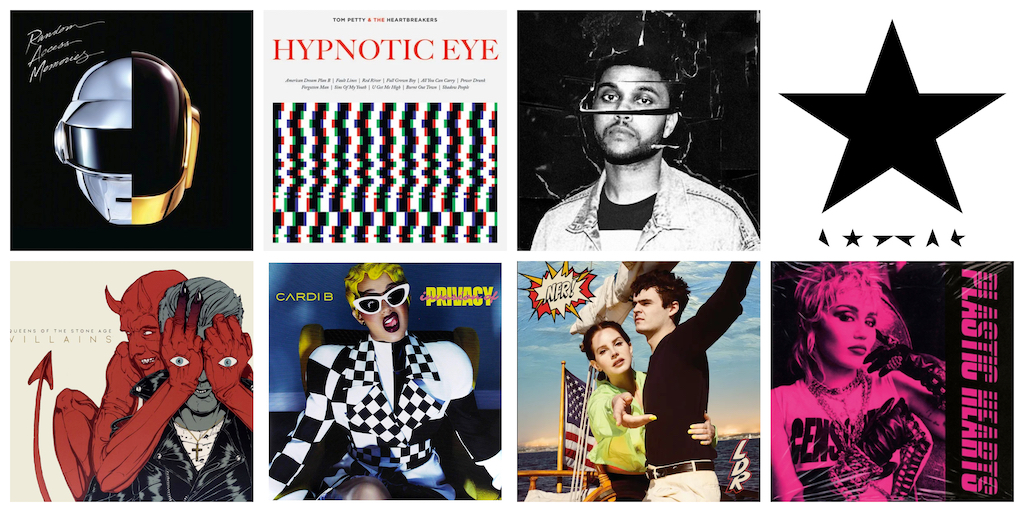 About 15 years ago, I joined a challenge to list "a favorite album for every year of your life". The challenge had two restrictions – I added another for myself:
Only one album per year
No repeat artists
Must own the album
The last restriction was a fun idea at the time, but owning physical albums has become somewhat of a lost art. This really limited the set to choose from and resulted in some peculiar choices, so as the years passed, I had to relax this requirement a bit.
It's been a decade since my last update, and in that time I have listened to a lot of great music. So as 2022 is almost at its end, I am adding the next 10 albums to my list:
1958: Jerry Lee Lewis, Great Balls of Fire
1959: Ray Charles, What I'd Say
1960: Miles Davis, Sketches of Spain
1961: Robert Johnson, King of the Delta Blues Singers
1962: Booker T & MG, Green Onions
1963: James Brown, Live at the Apollo
1964: John Coltrane, Love Supreme
1965: Bob Dylan, Highway 61 Revisited
1966: Cream, Fresh Cream
1967: The Doors, The Doors
1968: Johnny Cash, At Folsom Prison
1969: Rolling Stones, Let it Bleed
1970: The Who, Live at Leeds
1971: Marvin Gaye, What's going on
1972: Deep Purple, Made in Japan
1973: Pink Floyd, Dark Side of the Moon
1974: Genesis, The Lamb Lies Down on Broadway
1975: Led Zeppelin, Physical Graffiti
1976: Eagles, Hotel California
1977: The Stranglers, Rattus Norvegicus
1978: Herman Brood and his Wild Romance, Shpritsz
1979: The Clash, London Calling
1980: AC/DC, Back in Black
1981: The Police, Ghost in the Machine
1982: Steel Pulse, True Democracy
1983: U2, Under a Blood Red Sky
1984: Talking Heads, Stop Making Sense
1985: John Cougar Mellencamp, Scarecrow
1986: Run DMC, Raising Hell
1987: Guns N' Roses, Appetite for Destruction
1988: Public Enemy, It Takes A Nation of Millions to Hold Us Back
1989: Eric Clapton, Journeyman
1990: Angelo Badalamenti, Twin Peaks Soundtrack
1991: Nirvana, Nevermind
1992: Rage Against the Machine, Rage Against the Machine
1993: Live, Throwing Copper
1994: Neil Young, Sleeps with Angels
1995: Garbage, Garbage
1996: James Cotton, Deep in the Blues
1997: Erykah Badu, Baduizm
1998: DMX, Flesh of my Flesh, Blood of my Blood
1999: Red Hot Chili Peppers, Californication
2000: Eminem, The Marshall Mathers LP
2001: The Strokes, Is This It
2002: Richard Locker, Jewish Cello Masterpieces
2003: Linkin Park, Meteora
2004: Green Day, American Idiot
2005: Fiona Apple, Extraordinary Machine
2006: Matisyahu, Youth
2007: Foo Fighters, Echoes, Silence, Patience & Grace
2008: Hercules and Love Affair, Hercules and Love Affair
2009: Street Sweeper Social Club, Street Sweeper Social Club
2010: The Black Keys, Brothers
2011: Skrillex, Bangarang
2012: Jack White, Blunderbuss
2013: Daft Punk, Random Access Memories
2014: Tom Petty and the Heartbreakers, Hypnotic Eye
2015: The Weeknd, Beauty Behind the Madness
2016: David Bowie, Blackstar
2017: Queens of the Stone Age, Villains
2018: Cardi B, Invasion of Privacy
2019: Lana Del Rey, Norman Fucking Rockwell!
2020: Miley Cyrus, Plastic Hearts
2021: Self Esteem, Prioritise Pleasure
2022: Rosalía, MOTOMAMI

Picking an album for a year that hasn't really ended is difficult. I might have picked Jack White again, but he already has the spot for 2012. The Black Keys always seem to be on my list, but they were already my pick in 2010 (and they would have been my top pick again for 2014). I am really trying to like Kendrick Lamar, but still not getting there. The Weekend, Björk, Bad Bunny, Danger Mouse & Black Thought, and Bonnie Raitt all had great albums this year. Bonnie Raitt's Just Like That is my runner up, but Rosalía's Spanish sounds really got me, and as such, the Barcelona star takes top spot this year.
And to repeat my comments from 15 years ago:
The hardest part was leaving albums out; too many masterpieces in the 70s for example. But also, some other eras were difficult. I really wanted Linton Kwesi Johnson in there, but every time he had formidable competition. Madness got beaten by AC/DC, Beastie Boys by Run DMC, Nirvana kept Metallica out, The Stranglers win it from Johnny Rotten every time. Honorable mentions for Traffic, Apocalyptica, Counting Crows, and Nine Inch Nails; they almost made it.
---