---
Strengthening our commitment to Australia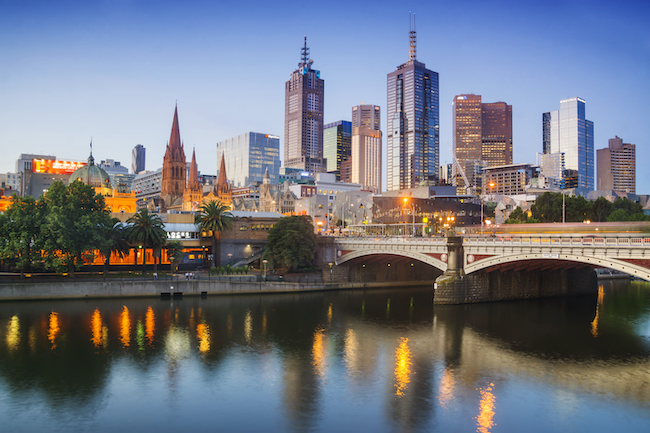 Our customers never stop building. And because they never stop, their need for security, availability, performance, scalability, and flexibility over how they choose to run their workloads never stop. At AWS, we are customer obsessed, so we never stop building either. That is why we have created more than 175 services, which we offer from 24 AWS Regions around the world to give our customers the best possible cloud experience, no matter where they are. We are excited to be announcing plans to launch a second infrastructure region in Australia in the second half of 2022. The new AWS Asia Pacific Region will be located in the Australian city of Melbourne and will deliver even lower latency to customers and their end users in Asia Pacific.
Launching our second Australian AWS Region brings many benefits to local customers. The first comes in the form of availability – each AWS Region is made up of multiple Availability Zones (AZs), which are one or more discrete data centres with redundant power, networking, and connectivity in an AWS Region. AZs give customers the ability to operate production applications and databases that are more highly available, fault tolerant, and scalable than would be possible from a single data centre. The AWS Asia Pacific (Melbourne) Region will be made up of three AZs, situated far enough apart to reduce the risk of a single event impacting all of them, but close enough to provide the response times needed to run high-performance applications. This means customers and partners can now access an alternative in-country location for hosting data and applications and enjoy an even higher level of confidence that these services will be available when needed.
The new Australian Region demonstrates our continuing commitment in Australia. Over the last decade, Amazon has invested more than AUD $3 billion in Australia, including infrastructure and compensation. AWS first invested in Australian infrastructure in 2012 when we opened our first local Development Centre in Sydney, then the AWS Asia Pacific (Sydney) Region later that same year, delivering our technology to thousands of organisations. Since then, local business innovation has accelerated rapidly, and that's what makes me most excited about opening additional infrastructure to better support them. When the new region opens in the second half of 2022, the AWS Asia Pacific (Melbourne) Region will complement our existing Asia Pacific (Sydney) Region and join eight others we already operate in Asia (with additional regions also in development).
Our investment and the growing adoption of cloud technologies is driving tangible economic impact. According to research from Deloitte Access Economics, the cloud has helped Australian organisations boost productivity by AUD $9.4 billion from 2014-19 and helped Australian companies launch on a global scale and innovate at speed. Opening a second Australian AWS Region in Melbourne also brings our services closer to our customers in south-eastern Australia, further improving our already rapid responsiveness. More and more customers are moving their mission-critical applications to AWS, and our new region will encourage and support this by providing faster access to advanced technologies such as analytics, machine learning (ML), database services, and Internet of Things (IoT).
We are humbled to have hundreds of thousands of active customers using AWS services in Australia each month, including startups, small-to-medium-sized businesses, enterprises, government agencies, education institutions, and non-profit organisations including the Commonwealth Bank of Australia (CBA), Woodside, David Jones, Network Ten, Australia Post, National Australia Bank (NAB), The Australian Bureau of Statistics (ABS), Kmart Group, Origin Energy, Telstra, Qantas, Atlassian, Canva, Commonwealth Scientific Industrial Research Organisation (CSIRO), Hello Sunday, nib insurance, Siteminder, Afterpay, Xero, David Jones, Myer, Safety Culture, SEEK, Australia Post, Siteminder, Swinburne University, among many others.
Through the COVID-19 pandemic, I've been inspired by the stories of builders around the world using AWS in very important ways to develop and launch new services that are helping to combat the virus and lessen its impact. One example is the Melbourne-based startup Elenium Automation, which has worked with AWS and Etihad Airways to develop systems to help people move through an airport using only their mobile device and voice. Another example is Whispir, which has provided flexible communications solutions to Australian government agencies and private organisations to help them keep in touch with citizens during the COVID-19 crisis, and Bigmate, which has created a system called Thermy that can detect if a person has an elevated body temperature.
But the impact of rapid cloud adoption will be felt long after the current crisis has passed. The public cloud is the springboard from which organisations can quickly launch new services and solutions. It enables them to experiment with ideas in a safe and cost-effective way and service their customers at a speed that was never possible previously. Customers can do all of this knowing we are committed to providing the best possible privacy and security protections, including the most extensive set of security and encryption services. AWS has 92 of our services in our Asia Pacific (Sydney) Region assessed at the highest level (PROTECTED Status) to host Australian government data by the Australian Cyber Security Centre (ACSC). Customers can take advantage of AWS's security benefits without paying a price premium or needing to modify their existing applications or environments.
And importantly, our customers can build in an environment that is constantly becoming more sustainable and one that will be drawing 100 percent of its energy from renewable sources before the end of this decade. In September 2019, we launched the Climate Pledge in conjunction with the purpose-driven enterprise Global Optimism to achieve net-zero carbon output by 2040 – a decade ahead of the goals set in 2015 by the Paris Agreement and we're on path to drawing 100 percent of our energy needs from renewable sources by 2025.
By opening our new Asia Pacific (Melbourne) Region, we intend to create countless opportunities for organisations of all sizes to do great things in the world, and we look forward to being inspired as builders and innovators achieve even more over the coming years.
---