---
Grüezi Schwiiz! Bonjour la Suisse! Buongiorno Svizzera! An AWS Region comes to Switzerland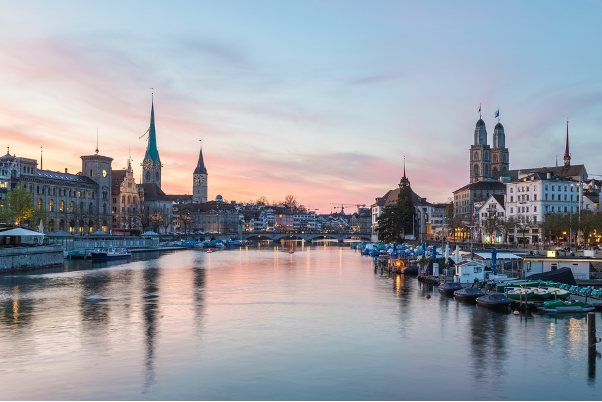 Today I'm happy to announce our plans to open a new AWS Region in Switzerland in the second half of 2022. When the AWS Europe (Zurich) Region is launched, developers, start-ups, and enterprises, as well as government, education, and non-profit organizations will be able to run their applications and serve end users across the region from data centers located in Switzerland.
Currently, AWS spans 77 Availability Zones within 24 geographic regions around the world and has announced plans for twelve more Availability Zones and four more AWS Regions in Indonesia, Japan, Spain, and Switzerland. The new AWS Europe (Zurich) Region will consist of three Availability Zones (AZs) at launch and will be AWS's eighth region in Europe, joining existing regions in France, Germany, Ireland, Italy, Sweden, the UK, and the upcoming Spain region launching in late 2022 or early 2023. AZs refer to data centers in separate distinct locations within a single region that are engineered to be operationally independent of other AZs, with independent power, cooling, and physical security, and are connected via a low latency network. AWS customers focused on running highly available applications can architect their applications to run in multiple AZs to achieve even higher fault-tolerance. To learn more about AWS Regions and Availability Zones please visit the AWS Global Infrastructure page.
Switzerland has a long history of pioneers, and we're proud to demonstrate our continued commitment to support this next phase of cloud-fueled innovation and support customers interested in keeping their data in-country. Over the years, AWS has supported organizations across almost every industry in Switzerland – from its postal system to railways, broadcasting to mapping, and from world-leading pharma companies to innovative startups – to speed up innovation, lower IT costs, and transform their operations. We opened our first Swiss office in Zurich four years ago, followed by a second office in Geneva a year later. We launched AWS Activate in 2013, giving Swiss start-ups access to guidance and one-on-one time with AWS experts along with web-based training, self-paced labs, customer support, offers from third-parties, and up to $100,000 in AWS service credits. In 2017, we introduced two Points of Presence (PoPs) in Switzerland which deliver Amazon CloudFront, Amazon Route 53, AWS Shield, AWS WAF, and Lambda@Edge as well as Amazon Direct Connect to the country. We're also building teams of account managers, technical account managers, partner managers, systems engineers, solutions architects, professional services, and other roles to help customers of all sizes move to AWS.
As the number of Swiss customers has grown, so has the size of AWS's presence in the country. Hundreds of thousands of customers in Europe, and more than ten thousand in Switzerland now use AWS each month to build their businesses and expand their geographic reach. Across Switzerland enterprises and medium-sized businesses such as Dentsu Tracking, Enersis, Hilti, Novartis, Richemont, Ringier, and TX Group, public sector customers like Computer Vision Lab (CVL) at Eidgenössische Technische Hochschule Zürich (ETH Zürich), Swiss Broadcasting Corporation (RSI), Swiss Federal Railways (SBB), Swiss Post, the Swiss Federal Office of Topography (swisstopo), as well as startups like Ava, Beekeeper, and Coople are moving their mission-critical workloads to AWS.
Our AWS Partner Network (APN), which includes tens of thousands of Independent Software Vendors (ISVs) and System Integrators (SIs) around the world, helps customers by providing business, technical, marketing, and go-to-market support. Amongst them is Swisscom, Switzerland's leading telecommunications company and one of its leading IT companies.
We also work with the venture capital community, startup accelerators, and incubators to help startups grow in the cloud. In Switzerland, we work with accelerator organizations, such as F10, A&I Kickstartaccelerator, TrustSquare, and MassChallenge as well as Venture Capital firms like CV VC, investiere, Venturelab, and Redalpine.
For Swiss students, the AWS Educate program provides access to AWS services and content designed to build knowledge and skills in cloud computing. Dozens of Swiss universities and business schools already participating in the program including Bern University of Applied Sciences (BFH), Eidgenössische Technische Hochschule Zürich (ETH), and HES-SO Valais-Wallis (HES-SO).
The AWS Academy provides higher education institutions with a free, ready-to-teach cloud computing curriculum that prepares students for AWS Certifications and in-demand cloud roles. In Switzerland, major institutions taking part include University of Applied Sciences and Arts Northwestern Switzerland (FHNW), University of Applied Sciences OST, and International University of Geneva.
The upcoming AWS Europe (Zurich) Region will give our customers the choice and flexibility for where to store and process their data. As always, our customers retain ownership of their data and control over its movement, so even the most security- and compliance-sensitive companies interested in keeping their data in Switzerland will now be able to innovate faster utilizing the AWS Cloud. To learn more about our capabilities in Switzerland, visit: https://aws.amazon.com/local/switzerland, and if you would like to join our team in Switzerland, check out our open positions!
---