---
Halo Jakarta! An AWS Region is coming to Indonesia!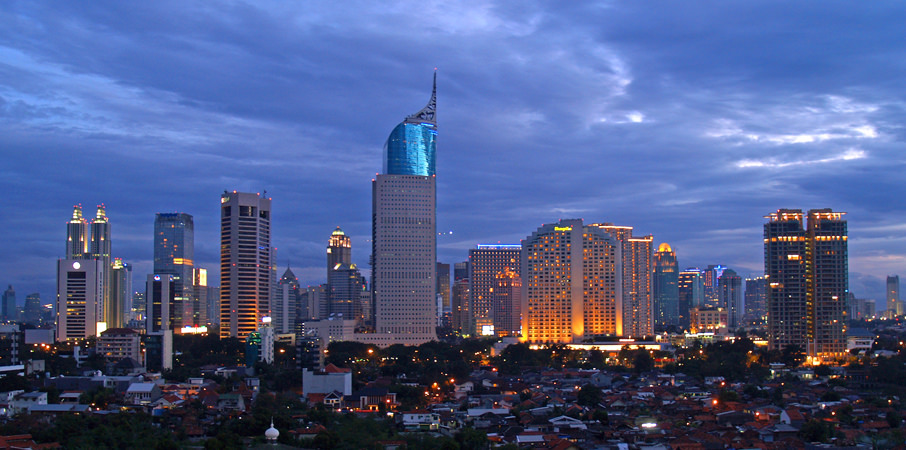 Today, I am excited to announce our plans to open a new AWS Region in Indonesia! The new AWS Asia Pacific (Jakarta) Region will be composed of three Availability Zones, and will give AWS customers and partners the ability to run workloads and store data in Indonesia.
The AWS Asia Pacific (Jakarta) Region will be our ninth Region in Asia Pacific. It joins existing Regions in Beijing, Mumbai, Ningxia, Seoul, Singapore, Sydney, and Tokyo, as well as an upcoming Region in Hong Kong SAR. AWS customers are already using 61 Availability Zones across 20 infrastructure Regions worldwide. Today's announcement brings the total number of global Regions (operational and announced) up to 25.
Customers in Indonesia are already using AWS to build transformative experiences in a variety of industries. Last year, in the Now Go Build series, I showcased one such AWS customer, Hara. They're building a blockchain-based data exchange focused on improving the food and agriculture sector. Other organizations in Indonesia are moving their mission-critical workloads to AWS to drive cost savings, accelerate innovation, scale rapidly, and speed time-to-market:
Amartha, Adskom, Bhinekka, Bizzy, Bridestory.com, Elevenia, FinAccel, Happyfresh, Haldin, Halodoc, Jawa Pos, Kumparan, Kompas, Lion Air, OnlinePajak, Optik Seis, Talenta, Ticket.com, Tokopedia, Traveloka, Warung Pintar, and many more
Traveloka built its business on AWS and is the top travel industry website in Indonesia. The startup leveraged the AWS scale to deliver travel services across several countries, including Malaysia, Thailand, Vietnam, Singapore, India, and the Philippines. They scaled resources in and out to meet peak traffic periods throughout the year.
"AWS has allowed us to quickly grow from a startup travel search engine in 2012, to one of the leading Southeast Asia online travel companies. We provide a wide range of travel and lifestyle needs in one platform," said Denni Gautama, VP of Engineering – Travel Products, Traveloka. "Today, we support 100 airlines and 450,000 accommodation partners in 100 countries. Our mobile app has been downloaded more than 40 million times by our customers in Southeast Asia. AWS has played a key part in our success since day one. They've provided a stable, secure, and scalable platform that has allowed us to expand our business and technology platform rapidly and economically in each stage of our growth.
Halodoc is a healthcare platform that enables people to teleconsult with healthcare professionals. They also help deliver pharmaceuticals across Indonesia, and provide in-home lab services by qualified professionals. Halodoc has been all-in on AWS since 2016, and uses services such as Amazon EC2, Amazon RDS, Amazon S3, and AWS Lambda to build its platform.
"Ill patients don't want to wait an extended amount of time for healthcare professionals to answer their questions, the same way busy doctors don't want to wait for responses from patients in online chats. AWS has allowed us to reduce any latency lag time in beginning a chat to less than five seconds for 95 percent of our teleconsultation engagements, and less than one second in 50 percent of teleconsultation engagements," said Abhilash Ramakrishna, CTO of Halodoc.
Using AWS, PetaBencana delivers near real-time, crowd-sourced flood information quickly to officials and first responders, where time and accuracy matter in saving lives. Formerly called PetaJakarta, the web-based platform gathers, curates, and interprets social media posts about disasters. Since its debut in 2013, PetaBencana has been used by millions of Indonesian residents to make time-critical decisions about safety and navigation during emergency flood events. It was adopted by the National Emergency Management Agency in Indonesia to monitor flood events, improve response times, and share time-critical information with residents.
Since moving their IT architecture to AWS, Bhinneka has transformed its nearly 30-year-old business to become Indonesia's top ecommerce website. By using tools such as AWS Lambda, Bhinneka has cut software development time by 50 percent in some instances. That has freed up resources to develop new inventory-prediction applications and chatbots to assist online customers.
"Without AWS, we could not have gone from idea to implementation as quickly as we have. That's helping accelerate development of our marketplace much faster than ever before," said Lodewijk Tanamal, CTO of Bhinneka. "Since moving from Microsoft to AWS, we have been more cost-effective in our decisions, reducing our spend by 30 percent. Our customers have relied on us as a brick-and-mortar store since we started three decades ago. Now AWS has allowed us to embrace a new business model, and deliver our goods and services to our customers wherever they are located.
Jawa Pos, one of Indonesia's leading news organizations, uses AWS to embrace opportunity in the digital age by bringing breaking news immediately to a readership of more than 1 million.
"When we began our cloud journey, we chose AWS since it is the cloud pioneer and market leader. We knew it would help us deliver news and information to people faster. We also knew that our online infrastructure would be reliable and able to meet the needs of increased traffic spikes during breaking news events," said R. Soegiharto, director of IT, Jawa Pos. "AWS has been a great partner in our journey, helping us reduce our IT costs by at least 30 percent by working closely with the AWS team.
Optik Seis is a premier fashion eyewear retailer in Indonesia with 150 locations in 33 cities across the country. They've used AWS to increase the speed of application deployment by more than five times faster than other cloud providers.
"AWS supports our business across multiple platforms – in store and ecommerce point-of-sale, member loyalty applications, and inventory management nationwide. AWS allows our sales staff to retrieve real-time information quickly so that we can provide faster and more accurate customer service online and in our stores," said Rudhy Buntaram, director of Optik Seis. "We can rely on AWS for its security in handling customer transactions. The speed at which we're able to move allows us to scale faster when we have increases in transactions during flash and seasonal sale periods.
AWS also has a vibrant partner ecosystem in Indonesia as part of the AWS Partner Network (APN). This includes independent software vendors (ISVs) and systems integrators (SIs) who have built innovative solutions and services on AWS. APN SIs working in Indonesia include:
Accenture, BlazeClan, Cloud Comrade, InfoFabrica, PT Innovation Cloud Services, PT Metrodata Electronics, PT Central Data Technology (CDT), Right Cloud, Westcon – Comstor, Jojonomics, and Fatiha Sakti
PT Innovation Cloud Services (ICS Compute), one of the first "born in the cloud" local partners in Indonesia, provides consulting, technology services, and digital transformation for customers in the media and distribution industries. "ICS Compute helped tempo.co, the online portal of Indonesia's well-known national weekly news magazine, build a new reliable environment on AWS. We ensured that the infrastructure was built based on AWS best practices," said Budhi Wibawa, founder and CEO of ICS Compute. "As a result, their network environment is now stable and reliable, with no downtime."
BlazeClan is another born-in-the-cloud consulting company that provides customers worldwide with advisory, cloud migration, big data and analytics, product development, and cloud managed services. BlazeClan has a strong presence in ASEAN, Europe, and North America.
"The partnership we have with AWS has given us a strategic edge," said Varoon D Ranjani, CEO of BlazeClan. "AWS provides a large breadth of services and tools, and supports multiple tech stacks, giving customers a wide variety of choice on the go. Agility, reduced costs for end users, decreased time-to-market, and the scalability of enterprise workloads are just a few of the many benefits that our customers have experienced while working with AWS."
Cloud Comrade is an enterprise-focused cloud computing partner that has been operating in Indonesia since 2016. "The rapid economic growth and the fast digital transformation now taking place in Indonesia opens up huge opportunities both for AWS and Cloud Comrade to assist Indonesian companies," said Andy Waroma, Cloud Comrade co-founder and co-managing director. "We are excited to help these businesses in their desire to improve their efficiencies, as well as their ability innovate at scale."
The new AWS Asia Pacific (Jakarta) Region, coupled with the existing AWS Asia Pacific Regions, will provide customers with quick, low-latency access to websites, mobile applications, games, SaaS applications, big data analysis, Internet of Things (IoT) applications, and more. I'm excited to see the new and innovative use cases coming from our customers in Indonesia and across Asia Pacific, all enabled by AWS.
---