---
Välkommen till Stockholm – An AWS Region is coming to the Nordics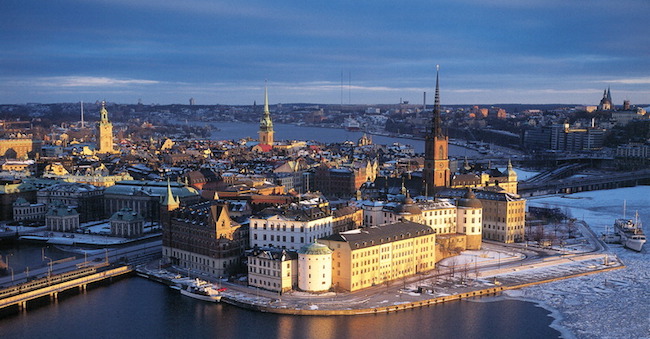 Today, I am very excited to announce our plans to open a new AWS Region in the Nordics! The new region will give Nordic-based businesses, government organisations, non-profits, and global companies with customers in the Nordics, the ability to leverage the AWS technology infrastructure from data centers in Sweden. The new AWS EU (Stockholm) Region will have three Availability Zones and will be ready for customers to use in 2018.
Over the past decade, we have seen tremendous growth at AWS. As a result, we have opened 42 Availability Zones across 16 AWS Regions worldwide. Last year, we opened new regions in Canada, India, Korea, the UK, and the US. Throughout the next year we will see another five zones, across two AWS Regions, come online in France and China. However, we do not plan to slow down and we are not stopping there. We are actively working to open new regions in the locations our customers need them most.
In Europe, we have been constantly expanding our footprint. In 2007, we opened our first AWS Region in Ireland and since then have opened additional regions, in Germany and the UK, with France still to come. After the launch of the AWS EU (Stockholm) Region, there will be 13 Availability Zones in Europe for customers to build flexible, scalable, secure, and highly available applications. It will also give customers another region where they can store their data with the knowledge that it will not leave the EU unless they move it.
As well as AWS Regions, we also have 24 AWS Edge Network Locations in Europe. This enables customers to serve content to their end users with low latency, giving them the best application experience. This continued investment in Europe has led to strong growth as many customers across the region move to AWS.
Organizations across the Nordics—Denmark, Finland, Iceland, Norway, and Sweden—have been increasingly moving their mission-critical applications to AWS. This has led us to steadily increase our investment in the Nordics to serve our growing base of enterprise, public sector, and startup customers.
In 2011, AWS opened a Point of Presence (PoP) in Stockholm to enable customers to serve content to their end users with low latency. In 2014 and 2015 respectively, AWS opened offices in Stockholm and Espoo, Finland. We have also added teams in the Nordics to help customers of all sizes as they move to AWS, including account managers, solutions architects, business developers, partner managers, professional services consultants, technology evangelists, start-up community developers, and more.
Some of the most successful startups in the world, including Bambora, iZettle, King, Mojang, and Supercell are already using AWS to deliver highly reliable, scalable, and secure applications to customers.
Supercell is responsible for several of the highest grossing mobile games in history, and they rely on AWS for their entire infrastructure. With titles like Boom Beach, Clash of Clans, Clash Royale, and Hay Day, Supercell has 100 million people playing their games every single day.
iZettle, a mobile payments startup, is also 'all-in' on AWS. After finding it cost prohibitive to use colocation centers in local markets where their users are based, iZettle decided to give up hardware. They migrated their IT infrastructure, including mission-critical payments platforms, to AWS in just six weeks. After migrating, database queries that took six seconds now take three seconds in their AWS infrastructure. That's 100% faster.
Some of the largest, and most well respected, enterprises in the Nordics also depend on AWS to power their businesses, enabling them to be more agile and responsive to their customers. These companies include ASSA ABLOY, Finnair, Husqvarna Group, IKEA, Kauppalehti, Kesko, Sanoma, Scania, Schibsted, Telenor, and WOW Air.
Scania, a world leading manufacturer of commercial vehicles, is using AWS to bring advanced technologies to their trucks, buses, coaches, and diesel engines. AWS is helping them reach their goal of becoming the leader in sustainable transport. Scania is planning to use AWS for their connected vehicle systems, which allows truck owners to track their vehicles, collect real-time running data, and run diagnostics to understand when maintenance is needed to reduce vehicle downtime.
Icelandic low-cost airline carrier WOW air is using AWS for its Internet-facing IT infrastructure, including its booking engine, development platforms, and web servers. In making the switch to AWS, WOW air has saved between $30,000 and $45,000 on hardware, and software licensing. The airline has also been able to scale quickly to cope with spikes in seasonal traffic, cutting application latency and improving the overall customer experience. AWS was crucial to the successful launch of WOW air's U.S. flights, allowing the airline to expand twelvefold to cope with the spike in traffic that it experienced at the time.
In addition to established enterprises, government organizations, and rapidly growing startups, AWS also has a vibrant ecosystem in the Nordics, including partners that have built cloud practices and innovative technology solutions on AWS. AWS Partner Network (APN) Consulting Partners in the Nordics help customers migrate to the cloud. APN Partners include Accenture, Capgemini, Crayon Group, CSC, Cybercom, Dashsoft, Enfo Group, Evry, Jayway, Nordcloud, Proact IT Group, Solita, Tieto, Wipro, and many others. Among the APN Technology Partners and independent software vendors (ISVs) in the Nordics using AWS to deliver their software to customers around the world are Basware, eBuilder, F-Secure, Queue-it, Xstream, and many others.
The new AWS EU (Stockholm) Region, coupled with the existing AWS Regions in Dublin, Frankfurt, and London, and a future one in France, will provide customers with quick, low-latency access to websites, mobile applications, games, SaaS applications, big data analysis, Internet of Things (IoT) applications, and more. I'm excited to see the new and innovative use cases coming from our customers in the Nordics and across Europe, all enabled by AWS.
---