Meet the Teams Competing for the Alexa Prize
November 14, 2016
- 2 minutes read
- 418 words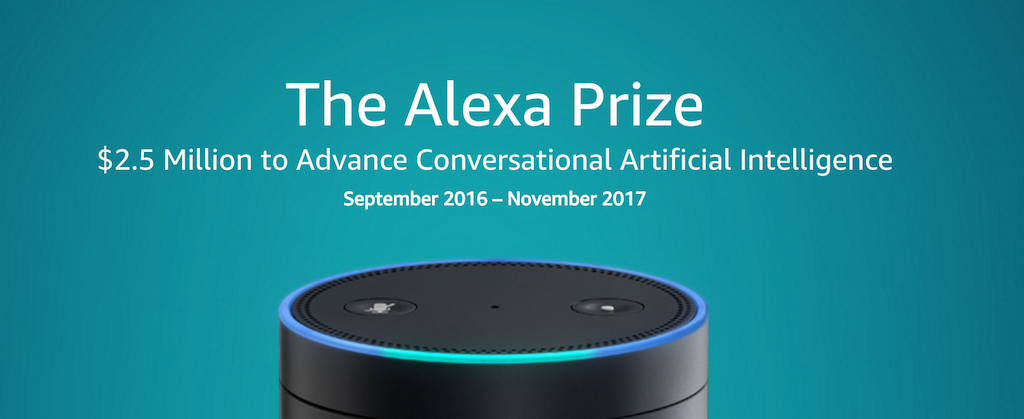 On September 29, 2016, Amazon announced the Alexa Prize, a $2.5 million university competition to advance conversational AI through voice. We received applications from leading universities across 22 countries. Each application was carefully reviewed by senior Amazon personnel against a rigorous set of criteria covering scientific contribution, technical merit, novelty, and ability to execute. Teams of scientists, engineers, user experience designers, and product managers read, evaluated, discussed, argued, and finally selected the twelve teams who would be invited to participate in the competition.
Today, we're excited to announce the 12 teams selected to compete with an Amazon sponsorship. In alphabetical order, they are:
Carnegie-Mellon University: CMU Magnus
Carnegie-Mellon University: TBD
Czech Technical University, Prague: eClub Prague
Heriot-Watt University, UK: WattSocialBot
Princeton University: Princeton Alexa
Rensselaer Polytechnic Institute: BAKAbot
University of California, Berkeley: Machine Learning @ Berkeley
University of California, Santa Cruz: SlugBots
University of Edinburgh, UK: Edina
University of Montreal, Canada: MILA Team
University of Trento, Italy: Roving Minds
University of Washington, Seattle: HuskyBot
These teams will each receive a $100,000 research grant as a stipend, Alexa-enabled devices, free Amazon Web Services (AWS) services to support their development efforts, access to new Alexa Skills Kit (ASK) APIs, and support from the Alexa team. Teams invited to participate without sponsorship will be announced on December 12, 2016.
We have challenged these teams to create a socialbot, a conversational AI skill for Alexa that converses engagingly and coherently with humans for 20 minutes on popular topics and news events such as Entertainment, Fashion, Politics, Sports, and Technology. This seemingly intuitive task continues to be one of the ultimate challenges for AI.
Teams will need to advance several areas of conversational AI including knowledge acquisition, natural language understanding, natural language generation, context modeling, common sense reasoning, and dialog planning. We will provide students with data and technical support to help them tackle these problems at scale, and live interactions and feedback from Alexa's large user base to help them test ideas and iterate their algorithms much faster than previously possible.
As teams gear up for the challenge, we invite all of you to think about what you'd like to chat with Alexa about. In April, you and millions of other Alexa customers will be able to test the socialbots and provide feedback to the teams to help them create a socialbot you'll want to chat with every day. Your feedback will also help select the finalists. In the meantime, follow the #AlexaPrize hashtag and bookmark the Alexa Prize site for updates.