Introducing the Alexa Prize, It's Day One for Voice
September 29, 2016
- 3 minutes read
- 617 words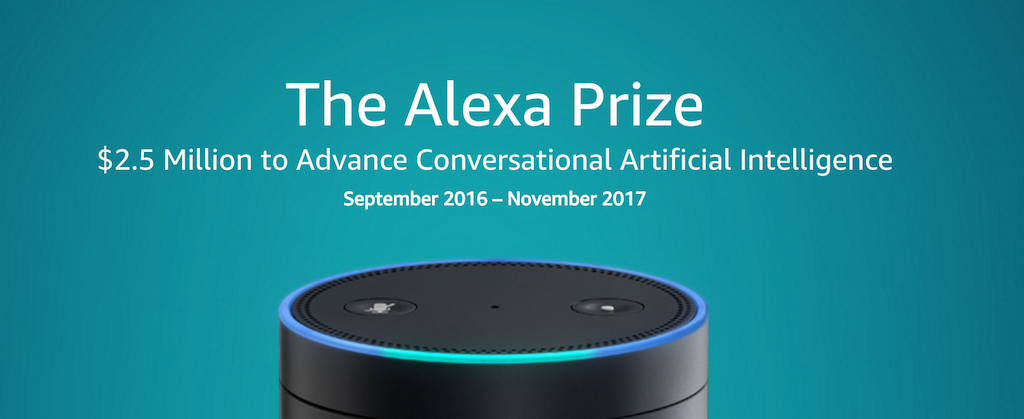 In the past voice interfaces were seen as gimmicks, or a nuisance for driving "hands-free." The Amazon Echo and Alexa have completely changed that perception. Voice is now seen as potentially the most important interface to interact with the digitally connected world. From home automation to commerce, from news organizations to government agencies, from financial services to healthcare, everyone is working on the best way is to interact with their services if voice is the interface. Especially for the exciting case where voice is the only interface.
Voice makes access to digital services far more inclusive than traditional screen-based interaction, for example, an aging population may be much more comfortable interacting with voice-based systems than through tablets or keyboards.
Alexa has propelled the conversational interface forward given how natural the interactions are with Alexa-enabled devices. However, it is still Day One, and a lot of innovation is underway in this world. Given the tremendous impact of voice on how we interact with the digital world, it influences how we will build products and services that can support conversations in ways that we have never done before. As such there is also a strong need for fundamental research on these interactions, best described as "Conversational Artificial Intelligence."
Today, we are pleased to announce the Alexa Prize, a $2.5 million university competition to accelerate advancements in conversational AI. With this challenge, we aim to advance several areas of conversational AI including knowledge acquisition, natural language understanding, natural language generation, context modeling, commonsense reasoning and dialog planning. The goal is that through the innovative work of students, Alexa users will experience novel, engaging conversational experiences.  
Teams of university students around the world are invited to participate in a conversational AI challenge (see contest rules for details). The challenge is to create a socialbot, an Alexa skill that converses with users on popular topics. Social conversation can occur naturally on any topic, and teams will need to create an engaging experience while maintaining relevance and coherence throughout the interaction. For the grand challenge we ask teams to invent a socialbot smart enough to engage in a fun, high quality conversation on popular societal topics for 20 minutes.
As part of the research and judging process, millions of Alexa customers will have the opportunity to converse with the socialbots on popular topics by saying, "Alexa, let's chat about (a topic, for example, baseball playoffs, celebrity gossip, scientific breakthroughs, etc.)." Following the conversation, Alexa users will give feedback on the experience to provide valuable input to the students for improving their socialbots. The feedback from Alexa users will also be used to help select the best socialbots to advance to the final, live judging phase.
The team with the highest-performing socialbot will win a $500,000 prize. Additionally, a prize of $1 million will be awarded to the winning team's university if their socialbot achieves the grand challenge of conversing coherently and engagingly with humans for 20 minutes.
Teams of university students can submit applications now and the contest will conclude at AWS re:Invent in November 2017, where the winners will be announced. Up to ten teams will be sponsored by Amazon and receive a $100,000 stipend, Alexa-enabled devices, free AWS services and support from the Alexa team.

Participating teams will receive special access to new Alexa Skills Kit (ASK) APIs to build their skills. Registration opened today and teams have until October 28, 2016 to submit their applications. The competition will officially start on November 14, 2016 and run until November 2017, concluding with an award ceremony to be held at AWS re:Invent in Las Vegas, NV.
For more information, check out the Alexa Prize page. And remember: it is still Day One!