Dutch Enterprises and The Cloud
September 6, 2013
- 6 minutes read
- 1100 words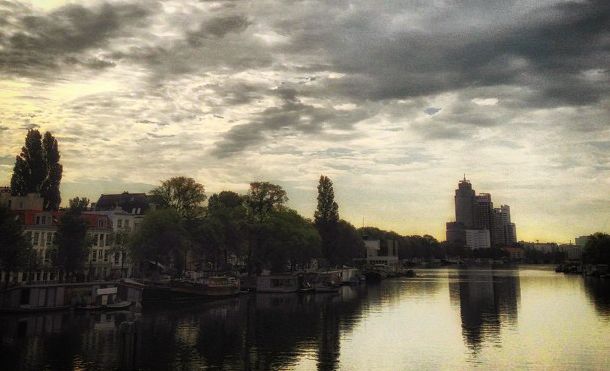 This spring I travelled through Europe for the AWS Global Summit series. In my many conversations with customers, and with the media, I encountered surprise and excitement about the extent that European enterprises have already been using the Amazon Web Services for some time. Whether it is large telecommunications manufactures like Nokia Networks running their real-time data analytics for network operators on AWS, or a luxury hotel chain like Kempinski moving their core IT functions to AWS such that they can get out of the IT business, or a major newspaper corporation like News International, who plan to have 75% of their infrastructure running on AWS within 3 years to improve their agility, European enterprises have been moving to the cloud for some time to become more agile and competitive.
Europe is a continent with much diversity and for each country there are great AWS customer examples to tell.  Given that I am originally from the Netherlands I have, of course, a special interest in how Dutch companies are using our cloud services.  
For many young Dutch businesses AWS is the platform of choice such that they can grow unconstrained, targeting a global customer base, in the most cost-effective manner possible. There is long list of success stories: WeTransfer, Floorplanner, Mobypicture, Albumprinter, Wercker, Cloud9, Silk, Layar, Karma, Wakoopa, Peecho, Foodzy Usabila and many, many more.
But it is not just Dutch entrepreneurs who build their business in the cloud, also traditional Dutch enterprises are moving to the cloud to improve their agility and cost-effectiveness. Here are some great examples from different industries each with unique use cases.
Royal Dutch Shell – is one of the world's largest companies. In addition to its goal of reducing energy costs, Shell needed to be more agile in deploying IT services and planning for user demand. To reach those goals, Shell in 2010 began using AWS.  Shell leverages sensors to find oil in wells formerly thought to have run dry or in places where previous exploration indicated there was no oil. These sensors create massive amounts of geological data. Shell's IT shop has to figure out how to drive costs down, effectively manage the giant files and make it profitable for the company to deploy these sensors.   Shell leverages AWS for big data analytics to help achieve these goals. Shell's scientists, especially the geophysicists and drilling engineers, frequently use cloud computing to run models. They provision compute capacity themselves, run their models and then return the cloud compute capacity, getting charged only for what they used. Shell says that two hundred and 300 project teams could be up and running in a day versus the weeks it would take them prior to AWS.

Unilever – Unilever R&D program intended to accelerate the company's scientific progress through improved access to global information. Due to the exponential growth of the biology and informatics fields, Unilever needs to maintain this new program within a highly-scalable environment that supports parallel computation and heavy data storage demands. It makes use of the Eagle Genomics platform running on AWS, resulting in that Unilever's digital data program now processes genetic sequences twenty times faster—without incurring higher compute costs. In addition, its robust architecture supports ten times as many scientists, all working simultaneously. This genetics R&D is crucial for Unliver to develop new products faster; for example comparing a healthy mouth with one with gingivitis - by identifying the shared genes amongst these two can be very helpful in developing the next generation of toothpaste.

Essent – supplies customers in the Benelux region with gas, electricity, heat and energy services. Essent has moved to the cloud to take advantage of the low, pay-as you-go, cost model and also the flexibility and scalability the cloud provides. Essent currently hosts all of their public facing websites and customer self-service portals in the AWS cloud. By offloading the task of managing infrastructure to AWS Essent is able to spend more time on innovating on behalf of their customers to help them in their energy usage. The company has used AWS to build an IT innovation zone, based upon open source products, which is being used to launch new innovations for customers like E-Mobility and E-thermostat products with a very fast time-to-market.

**Tom Tom – **Founded in 1991, TomTom is a leading provider of navigation and location-based products and services. In 2012 Tom Tom launched a new Location Based Services (LBS) platform to give app developers easy access to its mapping content to be able to incorporate rich location based data into their applications. When Tom Tom launched the LBS platform they wanted the ability to reach millions of developers all around the world without having them invest a lot of capital upfront in hardware and building expensive data centers so turned to the cloud. Using cloud computing as the underlying technology to run the LBS platform Tom Tom is able to provide developers with on-demand content that will enable them to build location based applications for fleet management, route planning, traffic management or spatial analytics. 

Ohpen – The Dutch banking regulator, De Nederlandsche Bank (DNB), has cleared the path for Dutch financial institutions to make use of AWS.  Dutch firm Ohpen has already moved to take advantage of the ruling by choosing AWS to host its core banking platform in an on-demand, software-as-a-service environment. According to Chris Zadeh, the CEO of Ohpen,  large Dutch banks are already moving their entire retail banking platforms to the cloud using Ohpen core banking technology running on top of AWS.
These are just some of the public enterprise references from the Netherlands, but from personal conversations I know that in almost industry vertical Dutch companies are moving ahead rapidly to ensure that they can keep up with the global competition. Dutch enterprises from Media & Advertising, Financial Services, Energy, Transportation and Shipping, Life Sciences and Healthcare are experiencing the transformative nature of Cloud Computing; how IT can be enabler of innovation and greatly improve agility with traditional organizations.
I have picked the Netherlands as the obvious example, but the Dutch are not an exception; I can tell similar stories for almost all European countries. Enterprises in Europe are rapidly embracing cloud computing to continue to compete globally, and at AWS we are proud to help them achieve their goals.
On September 26 there is an AWS Summit in the Beurs van Berlage in Amsterdam for those from the Benelux interested in hearing how customers are making use of AWS and hearing the details about the AWS business and technologies. You can find more details and registration information at http://aws.amazon.com/aws-summit-benelux-2013/amsterdam/