---
Driving Storage Costs Down for AWS Customers
One of the things that differentiates Amazon Web Services from other technology providers is its commitment to let customers benefits from continuous cost-cutting innovations and from the economies of scale AWS is able to achieve. As we showed last week one of the services that is growing rapidly is the Amazon Simple Storage Service (S3).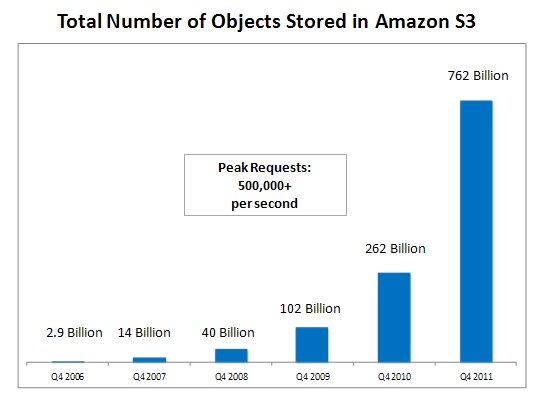 AWS today announced a substantial price drop per February 1, 2012 for Amazon S3 standard storage to help customers drive their storage cost down. A customer storing 50TB will see on average a 12% drop in cost when they get their Amazon S3 bill for February. Other storage tiers may see even greater cost savings.
These Amazon S3 cost savings will also help drive down the cost of Amazon EBS snapshots and Amazon Storage Gateway snapshots, for example in the US East (Virginia) Region, their cost will drop from $0.14 to $0.125 per Gigabyte.
In a time where on-premise infrastructure costs are rising significantly it is great to see that AWS can let all of its customers, big and small, benefit from the cost cutting innovations in storage.
More details can be found in the Forum Announcement, on Jeff Barr's blog and on the Amazon S3 Pricing Page.
---