---
DROAM - Dreaming about Cheap Data Roaming
I frequently travel outside of the US. Often to Europe and increasingly to the Middle & Far East and Australia. The one thing that I have always struggled with during my travels are the data plans of the cell phone companies. They are complex and ridiculously expensive. For an internet road warrior they are a complete nightmare.
One wireless company for example has an international plan that will charge you $25 per month for 50MB after which they will charge you $20 per MB. I frequently do more than 30MB a day, so this plan has no advantage for me. After many investigations I settled for T-Mobile which has an international Blackberry supplement that is $20/month for all BB mail traffic. Which is a good deal as I easily do 100MB++ in email alone. For a while this was great but as this doesn't include web and application internet traffic I started to see a rise in my roaming costs which T-Mobile charges at $15/MB.
Out of sheer frustration I started to carry a bunch of pay-as-you-go sims for popular countries but recharging those is often a hassle. This international data mess has been a frequent conversation topic with fellow travelers and no one has a good, simple and reliable solution.
This summer however things changed. Some friends brought me into contact with Phillip Attore in Amsterdam who was running a Beta test for a new business: rent a mifi device for a few dollars a day with 50MB per day included. You can use the device world-wide and the cost is fixed on a daily basis.
I received one of these devices and tested it for the last three months of 2010 when I was almost continuously on the road. All around Europe, the Middle East, India, Singapore, US, and the service worked perfect (except for Amman in Jordan where there were some hickups). I used it constantly and the resulting cost for those three months was a fraction of what I would normally have to pay, while my T-Mobile roaming data bill remained at $0.00.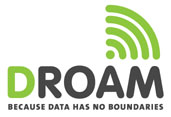 Starting on January 1, 2011, the service, which is called DROAM, is open to use for everyone. Their starting rates is €27.50 for the device rental and the first day of data, and €3.50 for every day after this. This includes 50MB data traffic per day. Look at the details at the DROAM site, the product page or at their pricing sheet.
If you sign up with the coupon code 488 they will donate part of your bill to KIKA which is an organization that supports youth cancer research.
Disclaimer: I have no part in this company, except for being a very satisfied customer. They're not even an AWS customer :-)
---