---
AWS Import/Export launches support for Legacy Storage Systems
Today Amazon Web Services takes another big step in making it easier to migrate legacy storage systems to the cloud through AWS Import/Export support for ingesting Punch Cards. AWS Import/Export accelerates moving large amounts of data into and out of AWS using portable storage media for transport. Punch cards are paper-based storage media that represent data using the presence or absence of holes in specific positions. With AWS Import/Export for Punch Cards, enterprises can begin using the service to preserve and unlock the large volumes of data that have accumulated over the last century on what was the first broadly adopted digital storage medium.
"Enterprises spent the better half of the 20th century accumulating critical data on punch cards," said Alyssa Henry, General Manager of Amazon S3. "Now that data can be easily transferred into Amazon S3, making it instantly accessible to customers and applications around the world."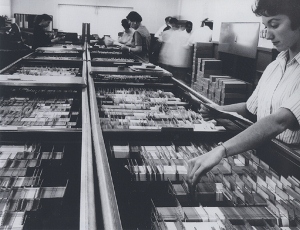 AWS Import/Export for Punch Cards initially supports importing 80 and 96 column punch cards that conform to ANSI X3.26 and are encoded using ISO 6586 compliant 7-bit or 8-bit character sets. Customers may send up to 572 sorted cards per package and may send as many packages to AWS as they like. AWS Import/Export loads each card into Amazon Simple Storage Service (Amazon S3) as a distinct object, uniquely identified by batch and card number.
"We have decades of valuable data stored on punch cards that sit idle in storage cabinets, readable only by specialized, aging systems," said Matt Hunter, CTO of Hollerith Inc. "With AWS Import/Export for Punch Cards, not only are we eliminating large amounts of physical storage space, but we're actively leveraging that data for the first time in years."
For general information on AWS Import/Export, see http://aws.amazon.com/importexport. For details on supported punch card configurations, boxing requirements, and pricing of AWS Import/Export for Punch Cards, see http://aws.amazon.com/importexport/punchcards.
---