While the past months have been relatively quiet there is now a period coming up with public events that will take me across a few continents. The period already started two weeks with a Distinguished Lecture at the School of Computer Science of CMU. I had a wonderful day meeting many academics to discuss the relevance of particular research subjects for companies such as Amazon. I believe that Peter Lee, the Head of Computer Science, is the only Head/Chair/Dean of a Computer Science department who maintains a weblog. It is worth reading for a different perspective.
Last week there was a very different event: A fireside chat at the close of the Under the Radar conference. During the day many startups had 5 minute slots to present their unique proposition to VC Judges and the audience. I found that there were two frequently asked questions: 1) Are you using Amazon Web Services and if not, why not? 2) How is this different from what Amazon is doing….?
In the coming weeks there will be a number of events I will attend, but two stand out: The Next Web Conference in Amsterdam and the MySQL Conference in Santa Clara. The latter will be the first major public appearance of Mårten Mickos and Jonathan Schwartz since the acquisition of MySQL by Sun Microsystems. I am looking forward to hearing their vision for the products. I have the honor to follow them with a presentation on lessons learned from building scalable state management tools for Amazon.com.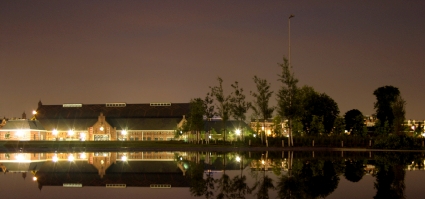 The Next Web Conference 2008 is one I am really looking forward to. The fact that it is in my old hometown may have something to do with that. But mostly it is because Patrick and crew are working really hard, and succeeding very well in my eyes, to make this an Event instead of a Conference. There are many different activities with some crossovers into art, comedy and entertainment. The location is great: The Wester Gasfabriek (Gas factory) was built around the start of the previous century to produce gas out of coal. Although the factory and surroundings had been prime examples of brownfields, they have since 2000 been transformed into a magnificent park. The restored raw industrial atmosphere of the buildings makes it a very special location for large events such as The Next Web 2008.
Update: If you want a 35% discount on attending The Next Web, head over to Boris' blog for a discount code.