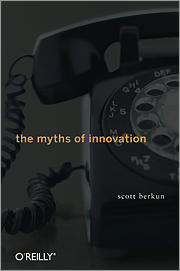 Congrats to Scott Berkun for sending his "Myths of Innovation"
book to the printer. Scott has collected an excellent set of recommendations for his book; among others JSB, Guy and me. It is well deserved; I read a beta version of the book and I was impressed.
It is very different from Scott's first book "The Art of Project Managment" which I consider to be the standard professional work for project management. That book was a very personal story, with best practises and Scott's extensive PM experiences. In this book Scott uses the voice of innovators through history to tell the story of the myths of innovation for him. It is a very clear story; solid research and lots of documentation. It would be a good read for your next offsite with your management team. Highly recommended.